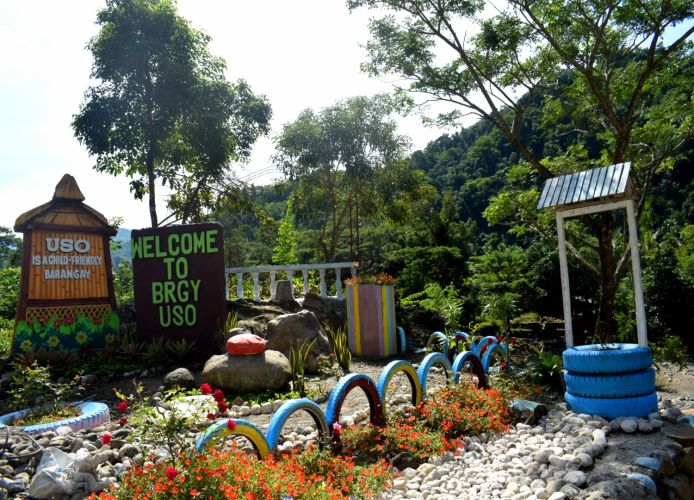 Barangay Uso
Brief History of the Brgy. Uso
Once upon a time, the place had only very few inhabitants and most of them were illiterate due to non-formal education during those days.
Our barangay is one of the smallest barangay of Suyo but people from other places and other countries are attracted to come and see the place because of the beautiful scenery specifically the clean and freshwater of the Chico River. Distance is not a problem because it's along the national road going to Cervantes, some part of Benguet and Mountain Province. People before were walking as they travel from one place to another specially the foreigners, they choose to walk than to ride.
So one day, an American who was enjoying walking along the national road and at the same time watching the flowing of water in the river whom happened to met a man who just came from the riverbank, because he was very interested to know the name of the place he asked the man and the man answered "USOK", because of illiteracy the man did not understand the question. He thought that what the foreigner was asking was the fish he was holding, an eel-like fish hanging which was caught by his hook-line and sinker. The American said oh! It's USO! USO! Because that's what he heard from that time on the place was named "USO".
Adda agkabsat nga naggapo idiay Mountain Province nga agnagan ti Suyan ken Usan, ket gapu iti kinapanglaw ti panagbiag, saanda nga agbagbagat isu nga naidumdumada nga agkabsat idiay lugarda. Gapu idiay nga sitwasyonda, nagpanonotda nga agkabsat nga mapanda idiay paggapuan ti asin. Isu nga napanda sadiay, nadanunda ngarud ti maysa nga lugar, nga asideg ti pagalaan ti asin.
Gapu ta mabutingda nga umas asideg idiay mismo nga pagalaan ti asin, nagyanda lattan idiay nga lugar. Manipud ide nagtulag da nga ni Suyan agyan idiay bangir nga parti ni Usan agyan met idiay bangir ta aguma da. Kalpasan nga makaumada ket inayabanda ngarud tip am pamilyada. Dimteng ti tiempo, inmay dagiti Espanyol, ket sinalodsud da ngarud no enya nga lugar dadiay, insungbat na nga Usan ket inbalikas dagiti Espanyol nga USO, nga manipod ide naawagan ti Uso.